About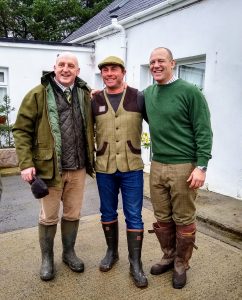 Testing mixed driven shooting in the wild and rugged landscape of County Clare, with a healthy dose of Irish hospitality, within easy reach of Shannon Airport.
John, owner and gamekeeper at the Mulberry Shoot has a very simple philosophy – if you take day's shooting from him, you're the boss. He'll structure days according to your wishes, tailoring drives and bags to suit all skill levels and wallets. Average bags are around the 300 mark, and can include duck, partridge and pheasant according to the time of year and your requirements.
But Mulberry is not for the faint-hearted – this is no manicured parkland shoot. Just 10 minutes as the crow flies from the Atlantic Ocean, this shoot was eeked, from scratch – from the boggy, heathery land, by John's own hands. It may not have the deep valleys of Devon, but the rocky topography has enough interesting features to produce birds to challenge even the most experienced shot. John's onsite game-rearing operation and feeding programmes ensure that there's a good number of strong, healthy birds sure to fly strongly. Powerful Atlantic winds complete the package – this is what John calls 'real' shooting.
But there's more to a day's shooting than the sport, and Mulberry won't disappoint. John's partner Margaret is in change of that side of the operation. Cosy Keeper's Cottage is the venue for stunning meals, hand-picked wines, and is the perfect place to relax after a day's exciting sport and share a few tall tales. For John and Margaret, no matter their love for the sport, their favourite part of running a shoot day is the chance to interact with their guests and make them feel at home, right down to the Shoot Captain's Chair at the dining table. The service is unfussy, warm and charming.
How to sum it up? As one recent guest says: "Mulberry is mad and magic."