2018/2019 Season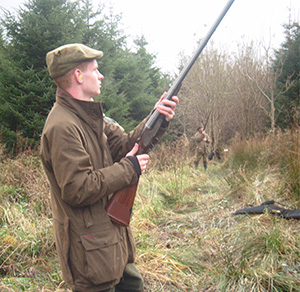 This is your opportunity to book a shoot day event at Mulberry Shoot for the coming season. We can accommodate up to ten guns with bags of 100 to 500 available. Starting in September with duck and partridge and then mainly pheasant from 1st of November. With so much work put into our drives and investment in our game farm infra-structure in recent years we can confidently say you will see quality birds sportingly presented across a range of drives that will test every skill level.
Guns are normally on their pegs around 9.30 am with elevenses served in the field and lunch back at the shoot lodge, usually after the third drive. We pride ourselves on our ability to offer a bespoke service so please don't hesitate to discus any special requirements you may have for your shoot day event.
For our overseas guests we can assist with every aspect of your visit. Shannon Airport is less than 30 minutes from Mulberry. We can take care of your gun permit or hire applications, arrange local accommodation, transport etc. just ask!
Make a Booking Enquiry for 2017/2018 season at Mulberry
Shoot Day Availability
Selection of dates available for the coming season. Please Make a Booking Enqiry if you want a different date.
DATE
DESCRIPTION
Please contact us to discuss availability
.

Please enquire about availability if the dates you want are not listed above.


 

Make a Booking Enquiry
If you are an individual or small group looking to join with others to make up a full team please let us know what kind of day you would like to join e.g. bag size, weekend or midweek etc. and we will put you on a mailing list to keep you informed of availability throughout the season.
Pheasant Season 1st November
Walk Up and Dog Training Days
Walk- up days on partridge available for September and October. For a maximum of four guns over mountain heather or rushy fields and ditches. Bag of 30 to 60 birds available. Dog training days for Spaniels and Labs.
Ph. 065 6839955 | Mob. 087 2691633
Irish Shooter's Digest May 2017
Robert Ford describes his first visit to our Mulberry Shoot.
"They engaged in a very positive way with the guns and played their part in ensuring a great day was had by all. The banter and fun we had with them during the day
and especially during elevenses is certainly, unique- ly Irish."